Behind the Scenes: How We Help Avoid the Hassle of Lost Packages
Posted on September 23 2020
Lets face it, losing a package sucks.
According to The New York Times, as of December 2019, there were more than 1.7 million packages lost throughout America on a daily basis.  New York City alone has more than 90,000 packages a day go missing while being the number one place throughout the country to have the most orders delivered.  If this data concerns you, you've most likely experienced a lost package at one point in your life or we've just given you new information to be concerned over.  We at UrbanCred pride ourselves in our customer service and will do everything we can to help you track, find, and get your packages to your doorsteps. But there are times where it is out of our hands and out of our control. That's when Route comes in.  
Route Shipping Insurance Now Available for all UrbanCred customers.
In the effort to provide more safety and assurance for our customers, we're happy to announce that UrbanCred is now integrated with Route, a shipping insurance company that offers complete shipping protection for all of our customers. 
What is Route? 
Route is essentially an insurance for your online orders.  It simplifies the refund and claims process for missing packages caused by theft, miscommunication, or any other reason it may be without any gimmicks or drawbacks.  Orders will be protected and any issues regarding your order can be resolved with the Route team.  Route is usually  purchased at checkout so their full shipping protection and swift one-click claims filing service is applied to your order.  While Route usually costs customers a miniscule price for covering their orders, we want to offer each and every one of our customers this service. Not only that, Route also has a free to download app (available for IOS and Android) for customers that visually tracks and insures your packages in real-time while keeping it organized in one place.  This means you're saving time from having to look through all your email accounts to find shipping and tracking info.  Anything and everything you order from multiple retailers will instantly allow you to track your packages anywhere and at any time of the day.  
How Does it Work?
Route Shipping Insurance is usually an optional add-on for our customers, but as a shopper with UrbanCred, your orders with us are 100% automatically covered. We want to give you that extra level of assurance and protection from lost, damaged or stolen packages. While more costs is never good for the bottom line, the cost is minimal for your peace-of-mind.
In the event that your package is lost, damaged or stolen, Route will either send a new order out to you or reimburse you for the totality of what you've paid.
What makes Route stand out is its quickness and efficiency in reimbursing the customer. Regularly, lost, damaged or stolen package claims with couriers (like UPS/Fedex) can take 8-10 business days to resolve. Route, on the other hand, offers a one-click claim form solution that takes under 5-10 minutes to complete, and once a claim is submitted and verified, Route will send a new package or reimburse the customer within 24 hours.

---
Using Route is very simple, and will usually automatically present itself as an add-on option at the Cart page. In our case, we will cover this cost for you. One less thing to worry about!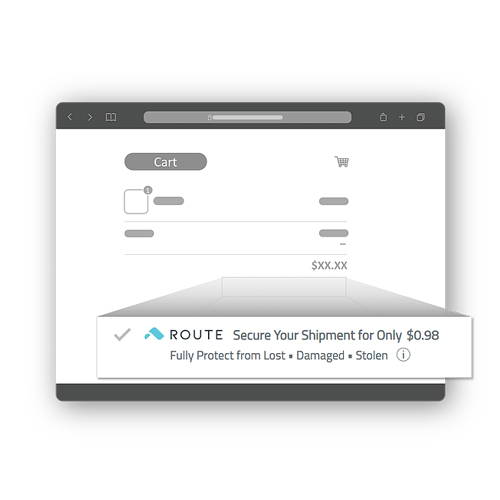 ---
After you've processed your order, you will receive an email confirming that they elected to protect their shipment. If you have any issues with your order, just a simple click on the included "File Claim" link in the email prefills their order info and a claim is filed.
Filing a claim is nearly instant with Route. If their product never shows up, gets broken in transit, or is stolen from their porch, Route will cover it.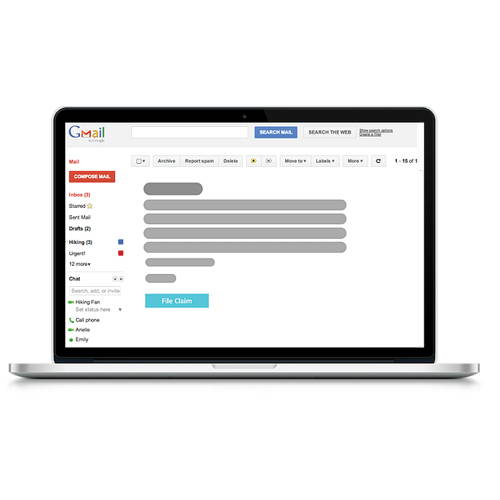 ---
3) Fast Payment
Route makes reimbursements easier than ever. Claims are automated, and upon approval, instant payment is ensured. While other insurance companies make customers wait for a check in the mail, Route allows them to connect their bank account and get paid instantly upon approval.
We look forward to working with Route to give our customers that peace-of-mind that they are looking for. If you have any further questions about Route and how it works, please don't hesitate to contact either our customer service or Route Insurance directly.
Let's say you order something from UrbanCred.  UrbanCred covers the cost of Route insurance for you. Now imagine this order never arrives at your door.  Route will cover it for you! All orders are covered, despite any circumstances, you'll never be left dissatisfied.  If you are one of the unlucky customers to have had a package missing, the first step is to file a claim.  When filing a claim all you need is to enter your email and your Route order number or Order ID in order to get started.  Fill out the form as accurately and detailed as you can (and specify whether your package was stolen, lost, or damaged, etc.) for a quicker response.  Once all the required information is filled out and reviewed, you'll be able to get a refund or receive a replacement depending on the situation.  
Navigating Through The Route App
After downloading and signing up on the Route app, you'll be able to use the two main tabs that contain all the order information you need.  It is a swift process to connect your email and have your order history in one section as seen in the tab located on the bottom right of the app.  Additionally, the pictures of the item(s) you ordered will be visible.  If there are any orders you no longer wish to have on your Order History list, simply swipe it to the left to delete it.  The other important tab contains the map in which you can see where your package is while it is in transit which is next to your Order History as seen in the middle on the bottom of the app screen.  It makes having multiple orders easier to keep an eye on so you'll know when the latest status update is with the added help of notifications that are located in the profile tab on the bottom far right.  Toggle the notifications on and you're good to go!
What To See in the Future
Route is currently only compatible with Gmail and as mentioned, available through their app. While you can technically use other email providers, it isn't the same experience and takes away from the swift automatic process.  We would love to see other popular email providers included eventually such as Yahoo! Mail, Outlook, and others.  
For those who do not have a Gmail account, you can still manually add in tracking info by going to the Order History tab and then clicking on the "+" sign located in the top right corner.
Again, we are covering each order from every customer with the Route insurance service because we understand the annoyance and irritation of package loss. This partnership between UrbanCred and Route will allow for more confidence in your orders. This is just another way for us to dedicate ourselves to the most important person to us, you!